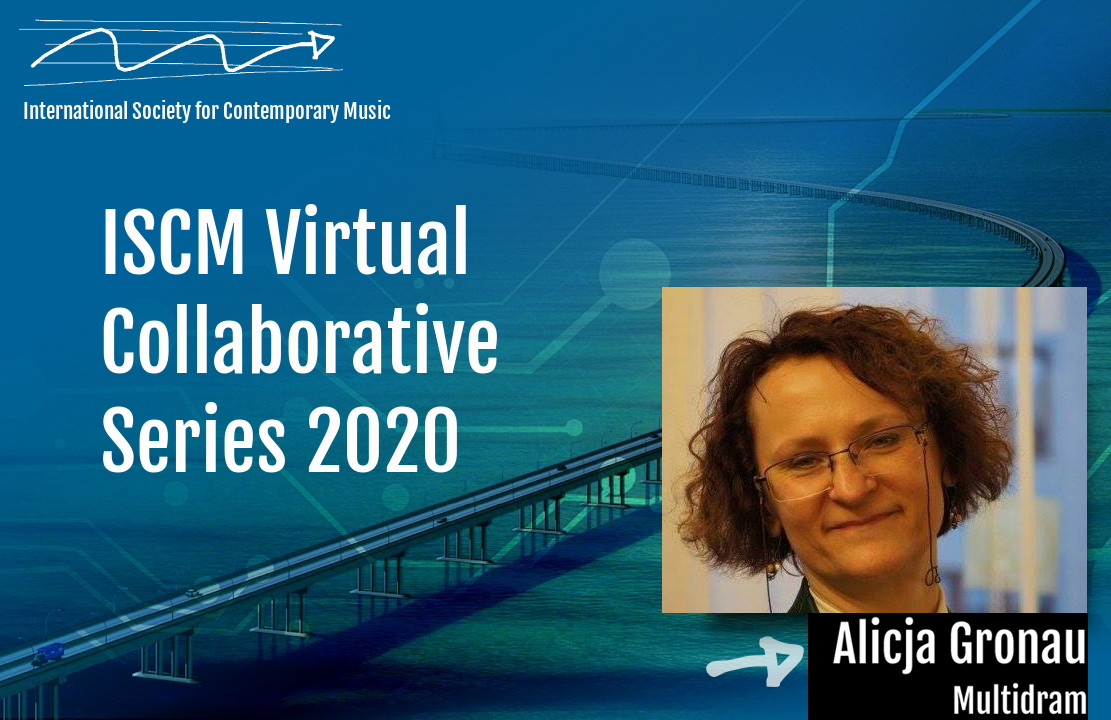 (Submitted by ISCM – POLISH SECTION)
Alicja Gronau (Gronau-Osinska), born 1957 in Warsaw (Poland), graduated theory of music (with prof. Witold Rudzinski), composition (with prof. Marian Borkowski) and Postgraduate Studies of Music Theory (all with distinctions) at the Fryderyk Chopin University of Music in Warsaw (Poland). At present she is professor (Dr. Hab.) in that University, and the head of FCUM Doctoral Studies, Postgraduate Study in Theory of Music, and Postgraduate Study of Composition. Her pieces were awarded many composition competitions at home and abroad. The most significant are: 1st prize at T. Baird Polish Composers' Society Competition for Young Composers (for OKNA/Windows, Warsaw 1992), 4th prize at Schola Cantorum Gedanensis Choir Composers' Competition (for Mironczarnie II, Gdansk 1992), distinction at Polish Composers' Union (for Pentarchia, Warsaw 1987), 1st prize at Prof. Ivan Spassov Composers' Competition  (for Invocazione – Sinfonia Vocale, Plovdiv, Bulgaria, 2001), 1st prize at Garden Music Composers' Competition (for Poblyski/Flashes, Krakow, 2001), 1st prize at Opera na Zamku Composers' Competition (for chamber opera I co wy na to? czyli cierpienia nowego Pirandella /And what will you say? – Suf­fer­ings of the New Piran­dello, Szczecin 2002). She is also a prize-winner of the Special Prize of Ministry of Art and Culture and the Wawrzyniec Zulawski Grant by ZAiKS (Polish Authors' Society). Her pieces were often performed during festivals in Poland: International Young Composers' Forum, Warsaw Music Days, Zamosc Music Days, Bydgoszcz Music Festival, Gdansk Meeting of Young Composers', Laboratory of Contemporary Music, Warsaw Autumn, and abroad: 7th European Youth  Music Festival (Bern, Switzerland), Eighth International Mu­sic Theater Workshop "New Works in Opera and Music Theater" w Munchen (Germany), VI Festival International de Música Contemporánea Darwin Vargas, Valparaiso (Chile), Viñia del Mar (Chile), Divertimento Cham­ber Youth Orchestra – Ottawa (Canada), ArtSax Duo in USA, Música y Danza desde Polonia en el II Centenario de Chopin, Música Contemporánea Polaca, Sevilla (Spain), Odessa State A.V.Niezhdanova Music Academy (Ukraine), Kyiv National Academy of Managerial Staff of Culture and Arts (Ukraine), Two Days and Two Nights of New Music (Odessa, Ukraine). Her pieces have been recorded on CDs (one of them was awarded for Fryderyk Prize – a famous polish music prize). Her didactic and science activity is concentrated on creative teaching, Dalcroze Method, integrated education, complete music analysis, musical-movement analysis, studies in 20th century music, compositional workshop and technique. She is the author of two books and a co-author of an additional three and her writings have appeared in numerous publications. She was a guest professor at Warsaw University, Zielona Góra University, Pomeranian Pedagogical Academy, and Podlaski University in Poland, as well as many academic institutions abroad: Iasi University of Arts (Romania), Inter­na­tional Music Theater Institut, Munchen (Germany), Departamento de Musica, Faculdad de Artes, Uni­ver­si­dad de Chile, Santiago de Chile (Chile), Instituto de Música, Pontificia Universidad Católica de Val­pa­raíso (Chile), Conservatorio Superior de Música "Manuel Castillo", Sevilla (Spain), Odessa State A.V. Niezhdanova Music Academy (Ukraine), and the Kyiv National Academy of Managerial Staff of Culture and Arts (Ukraine).
Multidram is a 2016 composition scored for soprano (singing a text written by the composer), clarinet (alternating with bass clarinet), Yamaha Disklavier, string quartet, and double bass which involves improvisation in the style of the commedia dell'arte. The work received its world premiere performance as part of an experimental chamber concert for autonomous piano and chamber musicians at Polish Radio's Concert Studio Witold Lutosławski Concert Studio in Warsaw, Poland.