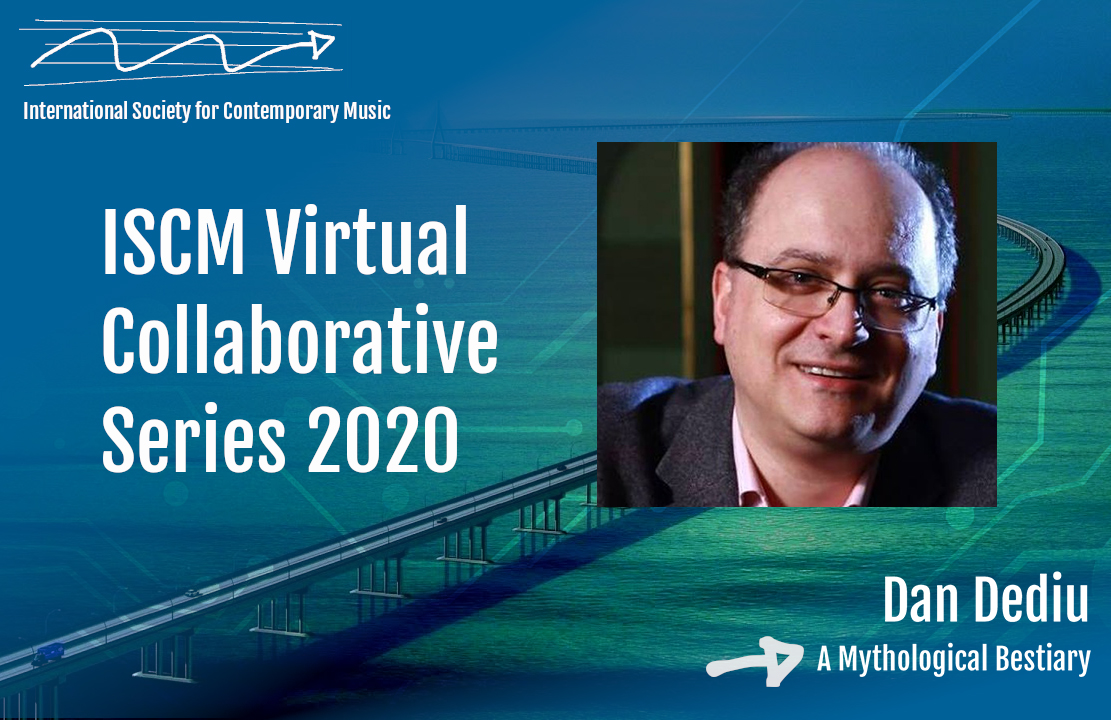 (Submitted by ISCM – ROMANIAN SECTION)
Dan Dediu (b. 1967, Brăila) studied composition in Bucharest with Ștefan Niculescu and Dan Constantinescu, and in Vienna with Francis Burt. Various composition and research grants (Herder and A. Berg, Vienna; Ircam, Paris; New Europe College, Bucharest; Wissenschaftskolleg, Berlin; Villa Concordia, Bamberg) played a decisive role in his development as a composer. His more than 150 opuses cover every musical genre: four symphonies and other pieces for orchestra (Narcotic Spaces, Ornaments, Motto-Studies, Frenesia, Mantrana, Grana, Verva, Fever, Atlantis, Levante), six concertos (for saxophone, viola, violin, piano, a triple concerto for flute, clarinet, cello and orchestra), five string quartets, chamber music for various ensembles, music for piano, choral music, electronic music, four operas (Post-fiction, Munchausen, Eve!, A Lost Letter). He has won national and international prizes for composition and performance (Vienna, Dresden, Paris, Berlin, Ludwigshafen, nine Union of Romanian Composers and Musicologists prizes, the Romanian Academy Prize, the Enesco Prize) and has received commissions from various famous festivals, ensembles and musicians. He has been published by Editura Muzicală and Peermusic (Hamburg—New York). He has been the artistic director of International New Music Week (1999, 2001, 2007, 2008, 2016, 2017, 2018, 2019) and the Profile Festival (2004, 2006). Dediu also served as head of the composition department of the National University of Music, Bucharest, and is the artistic director of the Profile Ensemble. Formerly rector of the National University of Music, Bucharest, he is now chairman of the university's senate. He is an Officer of the "For Education" Order and Chevalier of the Order of Cultural Merit.
A Mythological Bestiary for violin and piano, op.133 (2008), is made of six parts: "Griffin," "Unicorn," "Mandragora," "Sphynx," "Hippogriffin," and "Dragon." Six fantastic beings from various European mythologies are musically depicted in an emblematic cycle in which instrumental virtuosity is a defining component. The composer was wagered on creating music of great plasticity and on evoking expressively and in musical gestures certain ontological qualities that define the mythological beings in question. In "Griffin," the hybrid of lion and eagle is detectible in the multiple instrumental effects. In "Unicorn," purity and nostalgic nobility are emphasized. "Mandragora" combines the under-earthly pulse of the piano with fragmented melody and sudden twitches of the violin. "Sphynx" presents an unearthly calm in its linear, hypnotic discourse. "Hippogriffin" swings between flight and canter (griffin and horse). And the fires of "Dragon" heat the athmosphere to the point of incandescence.
The performance below features Diana Moş (violin) and Valentina Sandu-Dediu (piano).