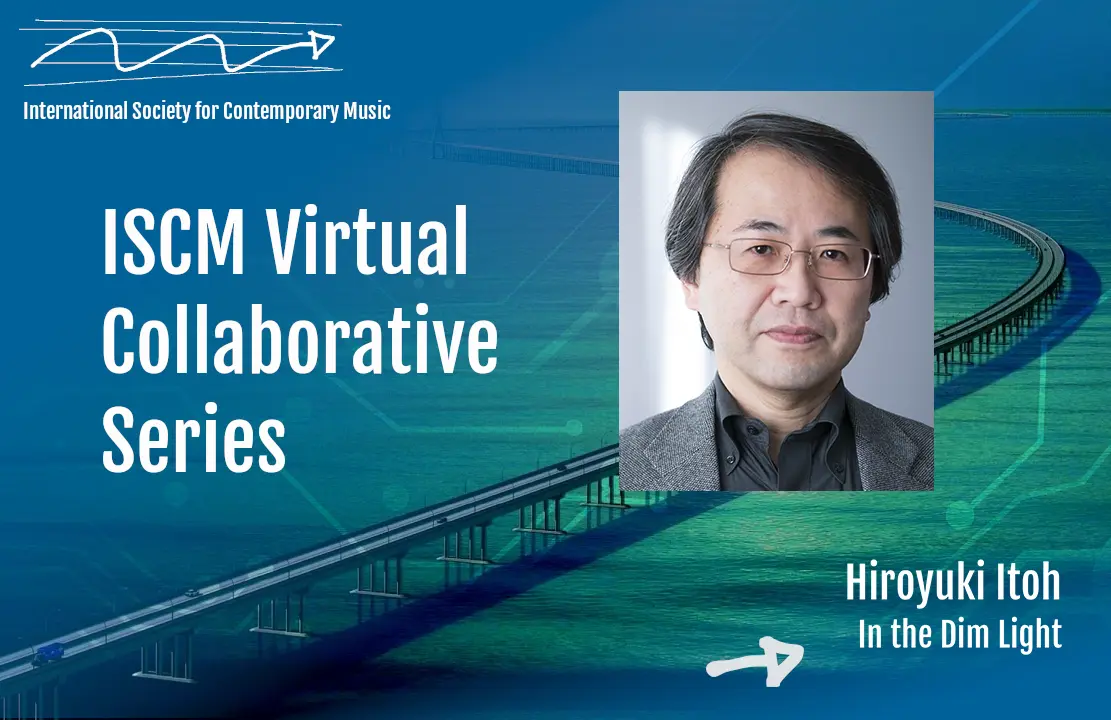 Hiroyuki Itoh (b. 1963 in Sakata, Japan) received his Ph.D. in music from the University of California, San Diego in 1994. He studied composition with Joji Yuasa, Shin-ichiro Ikebe, Roger Reynolds, and Brian Ferneyhough. His awards include first prize at the Nuove Sincronie International Composition Competition (1995), a Stipendienpreis at the Darmstadt Ferienkurse (1996), and the Akutagawa
Composition Award for Orchestral Music, one of the most prestigious composition awards in Japan (1998). Itoh has been commissioned by the Suntory Music Foundation, ZEN-ON Music Publishing, the Izumi & Kioi Halls, Yokohama Cultural Foundation, State Theatre in Cottbus, and the Takefu International Music Festival, among many others. His works have been performed: at festivals such as ISCM World New Music Days (2000 in Luxembourg, 2004 in Switzerland, and 2009 in Sweden), Lucerne, Darmstadt, Gaudeamus, Klangspuren, Rümlingen, June in Buffalo, Music From Japan, Music of Japan Today, Daegu, Akiyoshidai, and Takefu; by ensembles and orchestras such as the Arditti String Quartet, Quatuor Diotima, Klangforum Wien, Nieuw Ensemble, Ensemble Modern, Tokyo Sinfonietta, Ensemble Nomad, Art Respirant, Ensemble Contemporary Alpha, Next Mushroom Promotion, Quartet Excelsior, Philharmonic Chorus of Tokyo, Vox Humana, Tokyo City Philharmonic Orchestra, Kanagawa Philharmonic Orchestra, Izumi Sinfonietta Osaka, New Japan Philharmonic, and the Cottbus State Theatre Philharmonic Orchestra; and by soloists such as Nanae Yoshimura (koto), Mayumi Miyata (sho), Naoko Yoshino (hp), Mike Svoboda (trb), Lars Mlekusch (sax), and Tosiya Suzuki (recorder). Itoh's work has been published by Resolute Music Publications, Zen-On, Ricordi, and the Japan Federation of Composers Inc., and recorded on such labels as Fontec, MusicScape, ALM, Einstein Records, Translive, Telos Music, Genuin, and Stradivarius. Itoh taught at the Takefu International Composition Workshop between 2001 and 2015 as well as the Tokyo University of the Arts as a part time lecturer between 2016 and 2019. He directed "Exhibiting Music" in Tokyo in 2016 and 2017. He served as a jury member at the Akutagawa Composition Award in 2013 and the Music
Competition of Japan in 2018 among others. He is a professor of composition at the Music Department
of the Nihon University. Itoh currently lives in Tokyo, Japan.
In the Dim Light (2005), for alto flute, clarinet, violin, violoncello, and piano, was commissioned by Music From Japan, and premiered by an ad hoc ensemble conducted by Carolyn Kuan at the "Music From Japan Festival" in Merkin Concert Hall (New York City) on February 12, 2006. The work has been performed by many ensembles since then. The composer writes: "I was standing alone in a quiet garden of an old temple on an early evening in autumn. The scene's delicately nuanced shades of dark colors were about to melt into the darkness. A gentle wind swayed the surface of a pond and the surrounding trees. The light of dusk shimmered. It was an incomparably beautiful experience of time for me, and that was what inspired the opening section of In the Dim Light. In terms of fragility, In the Dim Light (along with my String Quartet composed in 2002) has probably reached the furthest extreme in my entire oeuvre thus far. Its beauty could only emerge satisfactorily when every subtle detail is worked out to perfection and to the extremes of human capability when performing this work."