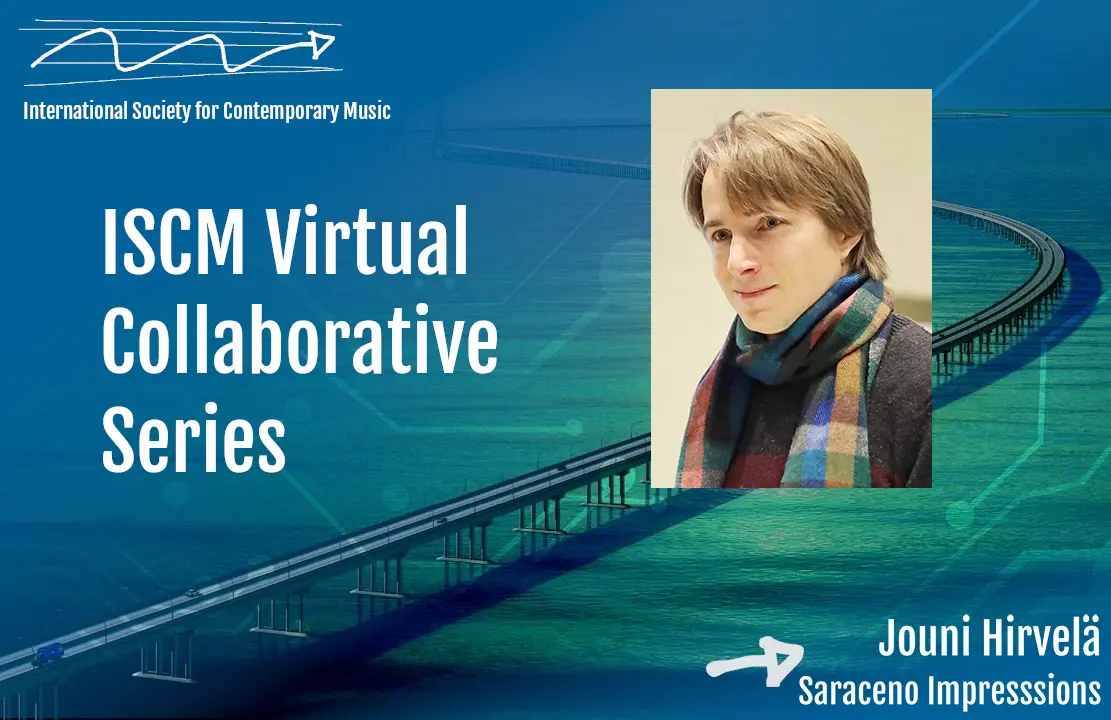 Jouni Hirvelä (b. 1982) is a Helsinki-based composer who likes to work with a wide range of instrumental and vocal special techniques. He often gets fascinated about sounds with delicate and fragile qualities and sometimes incorporates them as recorded audio. Hirvelä holds a Master's Degree from Sibelius Academy where he studied with professor Veli-Matti Puumala and Tapio Nevanlinna. He also studied in Berlin Universität der Künste with Elena Mendoza. He participated on numerous master classes and workshops, including ones with Kaija Saariaho, Marco Stroppa and Chaya Czernowin. Currently he pursues an artistic doctorate in Sibelius Academy. His works has been selected to or commissioned by festivals and concert series such as Porvoo Summer Sounds, ISCM World Music Days, Viitasaari Time of Music, Klang Helsinki Concert series, Unerhörte Musik and Nordlichte Biennale in Berlin, Turku Music Festival, Kotkan Lohisoitto and UNM-festivals. In August 2015 he had a profile concert at Helsinki Music Centre in the Summers Young Artist Concert Series. He has collaborated with ensembles such as Avanti!, Talea Ensemble, Uusinta Ensemble, Kymi Sinfonietta, Helsinki Chamber Choir, Formalist Quartet, Ensemble Adapter and Zagros Ensemble. In 2017 Hirvelä won the 38. International Irino Prize Competition with his work Atmenwerk for organ and ensemble. He was a finalist in Einojuhani Rautavaara Chamber Choir Composition Competition, as well as in the and Feeding Music Competition organized by the World EXPO Milan. He has received special prizes from Martin Wegelius and Pro Musica Foundations and his work has been supported by Finnish Cultural Foundation and Kordelin Foundation. Hirvelä has also worked as festival leader for UNM-festival arranged in Helsinki 2015.
About Saraceno Impresssions (2015), Hirvelä writes:
Spiders are a classic representation of uncanniness. Many people experience fear and disgust related to spiders and spider webs. At the same time, as the biodiversity decreases, we become more conscious of the importance of different species, even the ones we might experience as unpleasant. For example, spiders have turned out to be important insect eaters that have a significant effect on the ecological balance. To protect them, we might need to overcome our fears and biases, and to allow space for beauty that is foreign for us. The piece is inspired by sculptures of Tomas Saraceno, involving Latrodectus mactans (black widow) and its webs in enlightened glass boxes. Despite of associations that one might experience as unpleasant, the webs have quite beautiful organic and fragile aesthetic character. The piece tries to reflect these characters with its textures and sounds, which might be perceived as foreign and rather unpleasant but nevertheless containing strange beauty.