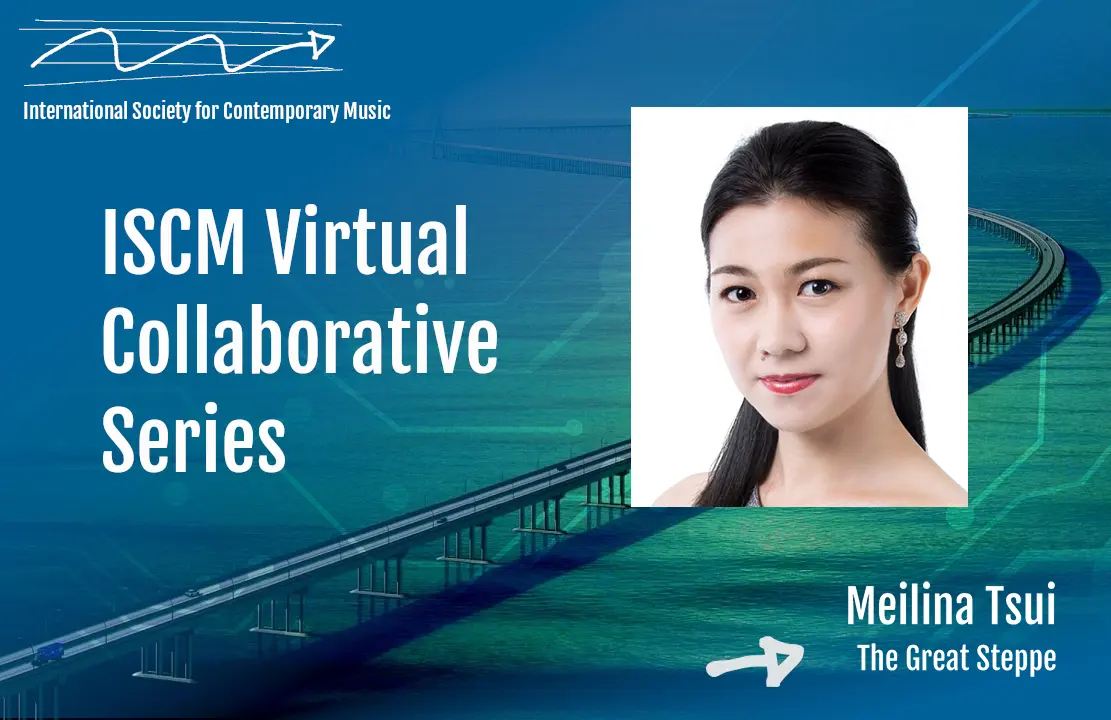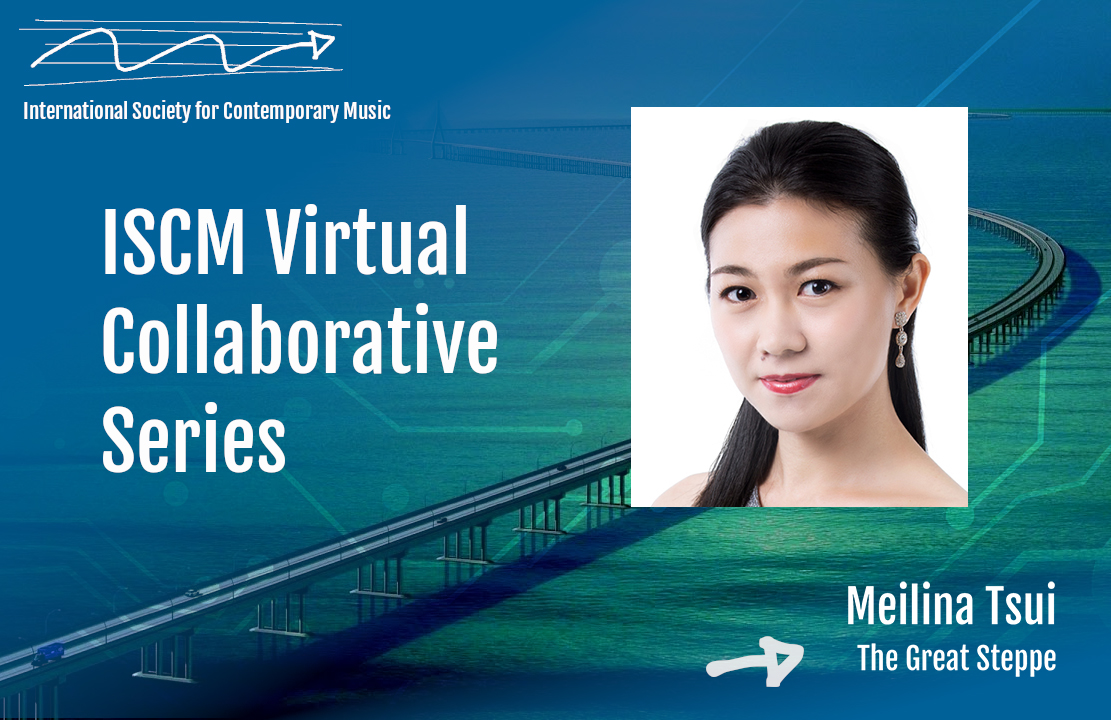 (Submitted by ISCM – HONG KONG SECTION)
Meilina Tsui (b. 1993) is an award-winning composer and pianist born in Kazakhstan and based in Hong Kong. Tsui's works have been performed by the National Symphony Orchestra of the Republic of Bashkortostan, Hong Kong Philharmonic, Kazakh State Philharmonic, Israeli Chamber Project, Mivos Quartet, Quartetto Indaco, Kazakh State String Quartet, Kaleidoscope Chamber Orchestra, PHACE Ensemble, Hong Kong New Music Ensemble, Lontano Ensemble, Quartetto Indaco, Israeli Chamber Project, Mivos Quartet, Radio Television Hong Kong Chamber Soloists, and HK City Contemporary Dance among many others and broadcast by NAXOS Music & Video Libraries, London arts radio "Resonance fm" and RTHK Radio 4 and Channel 31. She has received commissions from the Hong Kong Government Home Affairs Bureau, Hong Kong Arts Development Council, Radio Television Hong Kong, Musicus Society, Hong Kong Composers Guild and The Chinese University of Hong Kong Art Museum. International festivals that have featured Tsui's works include Asian Composers League Festival (Vietnam), HK Music Series (London), highSCORE (Italy), Asia-Europe New Music Festival (Russia), All-Russian Young Composers Festival (Russia), Asia Pacific International
Songwriting Camp (Taiwan), Intimacy of Creativity (Hong Kong), Kaleidoscope Concert Series (Los Angeles), Hong Kong Contemporary Music Festival, Vienna Summer Music Festival (Austria), and Midwest Composers Symposium (Bloomington, IN). In 2021, Tsui's music will be featured at the Kuhmo Chamber Music Festival in Finland, Aspen Music
School & Festival in Colorado, U.S., for which she was selected to be a Susan and Ford Schumann Centre Composition Fellow, and International Society for Contemporary Music (ISCM) World New Music Days in China. Recipient of many awards, Tsui has garnered some of the most prestigious scholarships in Hong Kong, among them the Hong Kong Jockey Club Scholarship, the Hong Kong Scholarship for Excellence Scheme, the Hong Kong Jockey Club Music and Dance Fund, and the Composers and Authors Society of Hong Kong (CASH) Scholarship for Overseas Studies. In 2018, Tsui's String Quartet No. 2 won the "I Creation Mivos Composition Prize" for Chinese composers in New York; the "Intimacy of Creativity World Premiere Concert Audience Vote" in Hong Kong and got selected out of 2200 works from 76 countries for performances by the Kaleidoscope Chamber Orchestra in Los Angeles. In the same year, Tsui was main featured composer of a state-organized concert at the Kazakh State Academic Opera and Ballet Theatre in Almaty held in celebration of the Hong Kong Government's first official visit to Kazakhstan. Her work, Sounds of New Eurasia, holds the distinction of being the first multinational collaborative piece concertedly featuring Kazakh, Chinese and Western instruments. Tsui earned her B.A. in Music (First Class Honors) from the Chinese University of Hong Kong; M.Mus. in Composition (Distinction) from King's College London, and is currently pursuing a D.M.A. in Composition with Profs. Bright Sheng and Michael Daugherty at the University of Michigan, USA.
About The Great Steppe, the first movement of Nomadic Trails for chamber orchestra (2020), the composer writes:
Feeling increasingly isolated and confined in my apartment in Michigan during the height of the COVID-19 pandemic, I desperately searched for an escape from the distressing realities of quarantine life by submerging myself, through music, into the wilderness of the Great Steppe, a large grassland plain found in my home country of Kazakhstan. Composed in a collage-like form of mini-sections, "The Great Steppe," the first movement of Nomadic Trails for chamber orchestra, is inspired by Kazakh legends, ancient rock paintings, and petroglyphs, all of which unveil the nomadic stories of the past – the ancient times when people believed in shamans and worshiped the Sun, habitually moving from place to place looking for new land and pastures, and tribes to conquer within the vast steppe. The soundscape of the movement embraces three main components – the geophonical, biophonical, and anthropophonical – depicting a palette of sounds and colours from wind, sand, grass, vibrations, animals, and the sounds of iconic traditional Kazakh instruments, the dombra, kobyz and shaman drum. There are also melodic quotations taken from three küis: Köroğlu by Dauletkerey, and Qyzyl Qaiyn and Adai by Kurmangazy. Each of the themes in this symphonic medley appear in a different mood, color, tempo and texture in a kaleidoscopic manner. Blurring the borders between abstract and concrete, "The Great Steppe" leaves space to allow the listener to create their own imaginary landscapes.