World New Music Magazine #17 – Chinese Contemporary Music, 2007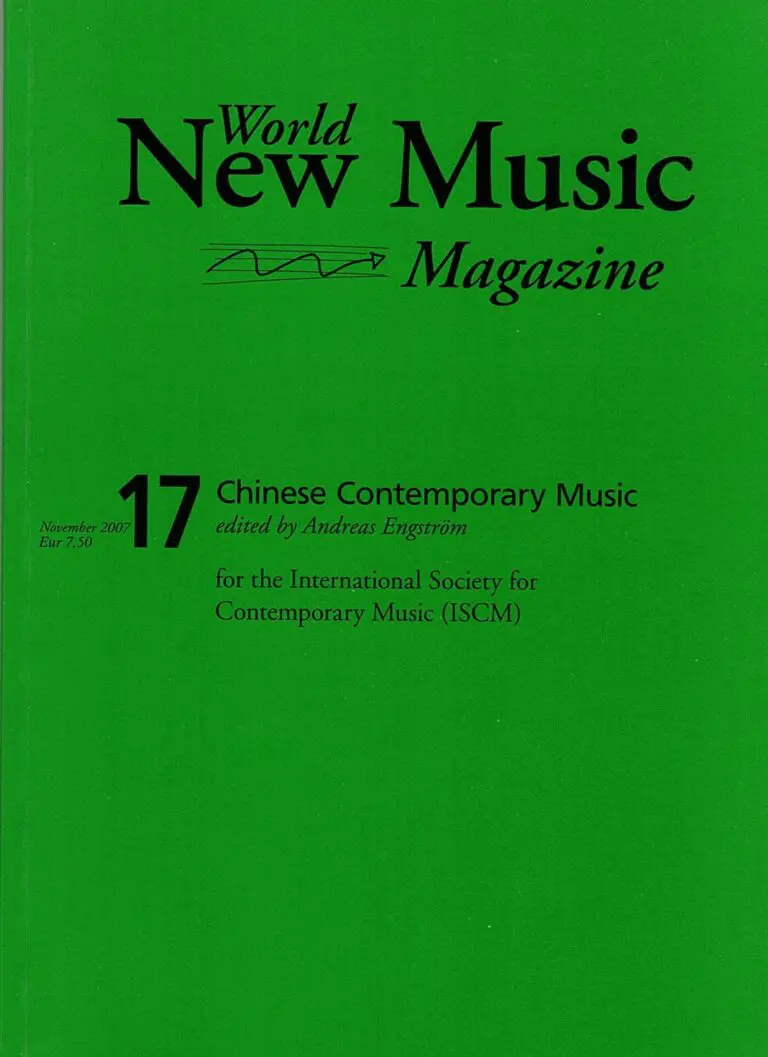 Edited by Andreas Engström
Editorial Board
Andreas Engström
Michael Blake
Keith Hamel
John McLachlan
Paul Steenhuisen
Anna Dorota Władyczka
Below is a complete list of the contents of WNMM 17:
Mats Almegård, "White – from Beijing to Berlin," pp. 72-73;
Joshua Chan, "A successful mega event – but as an ISCM festival there is room for improvement," pp. 86-91.
Joshua Chan, Wing-wah Chan, and Richard Tsang, "Hong Kong New Music – From Past Decades to the Future," pp. 5-17;
Andreas Engström, "Leilei Tian – from Beijing via Gothenburg to Paris," pp. 63-65;
Andreas Engström, "Eli Marshall – American New Music Entrepreneur in Beijing," pp. 66-68;
Andreas Engström, "AsianCultureLink – Connecting Vienna and Taipei," pp. 69-71;
Orlando Jacinto Garcia, "The ISCM died last week at 90 (actually 85) – and then began to slowly rise from its ashes," pp. 77-85.
Zbigniew Karkowski and Yan Jun, "The Sound of the Underground – Experimental and Non-Academic Musics in China," pp. 27-32;
Barbara Mittler, "Sound Patterns of Cultural Memory: 'Wound/Scar Music' and its Making in Contemporary China," pp. 33-54;
Yu Tao, "Chinese Women Composers – Finding Their Way in Global Culture, Emancipation and the Expanded Field of Art Music," pp. 19-26;
Matteo Uggeri and Zbigniew Karkowski, "Yan Jun – the Centre of Chinese Experimentalism," pp. 74-77;
Christian Utz, "Dislocated Identities – Fragmentary Thought on East Asian Music in Europe," pp. 55-61.