World New Music Magazine #20 – Australia, 2010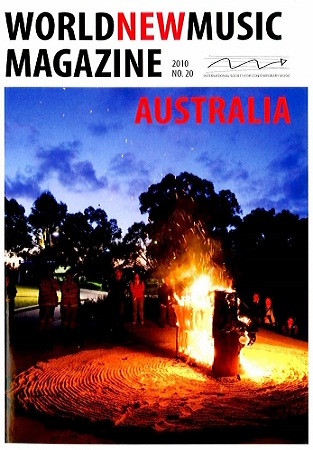 In connection to the ISCM World New Music Days 2010, ISCM has published a new issue of the World New Music Magazine, produced by the Australian Music Centre. It is a 204-page issue, typeset and designed by Philippa Horn, which includes 2 CDs courtesy of the New Music Network, Australia. The cover image by Emily Sandrussi is a photo from Campbelltown Arts Centre of Burning Piano by Annea Lockwood performed on Saturday 1 May 2010.
Below is a complete list of the contents of WNMM 20:
Forward by John Davis, President of the ISCM, p. 1.


Michael Atherton, "Oku Ou Talanoa Mo Hoku Loto: A Musical Realisation of Te Arikinui Te Atairangikaahu: Telling the North from the South," pp. 132-142;
Danielle Bentley, "Writeoff," pp. 76-83;
Colin Black, "An Overview of Australian Radiophonic and Radio Art Practices," pp. 177-181;
Ross Bolleter, "The Well Weathered Piano: A Study in Ruin," pp. 143-156;
Warren Burt, "Ways of listening: an incomplete catalogue," pp. 95-101;
Carl Crossin, "Unbearable beauty!" pp. 157-162;
Bruce Crossman, "Spiritual Essences: Sounds of an Asian-Pacific Place, Personality and Spirit in Double Resonances,"
pp. 6-17;
Jelle Dierickx, "Absence down under: The presence and absence of sound and performance poetry in Australia,"
pp. 51-57;
Jo Dyer, "Living Songs: Music, Law and Culture in Aboriginal Australia," pp. 58-64;
Andrew Ford, "Eulogy – Richard Meale," pp. 70-75;
Anni Heino, "Claire Edwardes: Coming a full circle," pp. 173-176;
Anni Heino, "Rosemary Joy and the sound world in miniature," pp. 65-69;
Glenda Keam, "Here and there: Observing eddies and currents in the flow of compositional concern on both sides of the Tasman," pp. 31-40;
Linda Kouvaras, "Toilets, Tears and Transcendence: The Postmodern (Dis) Placement of, and in, Two Water-Based Examples of Australian Sound Art," pp. 18-30;
Jonathan W. Marshall, "Flatness, Ornamentality and the Sonic Image: Puncturing flanerie and postcolonial memorialisation in the work of David Chesworth and Sonia Leber," pp. 102-131;
Garth Paine, "Noise and Texture, Towards an Asian-Influenced Composition Approach to the Concert Flute,"
pp. 163-172;
Andrew Schultz, "Creativity and crisis: some thoughts on self-management," pp. 45-50;
Graeme Skinner, "Conversations at Sandy Creek: Graeme Skinner chats with Gordon Kerry, author of New Classical Music: Composing Australia," pp. 84-94;
Paul Stanhope, "New Australian compositions for chamber choir," pp. 41-44;


Reports from the ISCM World New Music Days

Sydney 2010
photos pp. 182-183;
by Jeannie Marsh (AU) pp. 184-188;
by Joshua Chan (HK), pp. 188-192;
by Bruno De Cat (BE-Wallonie, pp. 192-195);

Sweden 2009
by Stephen Lias (USA-TX), pp. 196-199.
World New Music Magazine Issue 20 is available online via ISSUU.