Nicole Murphy: Spinning Top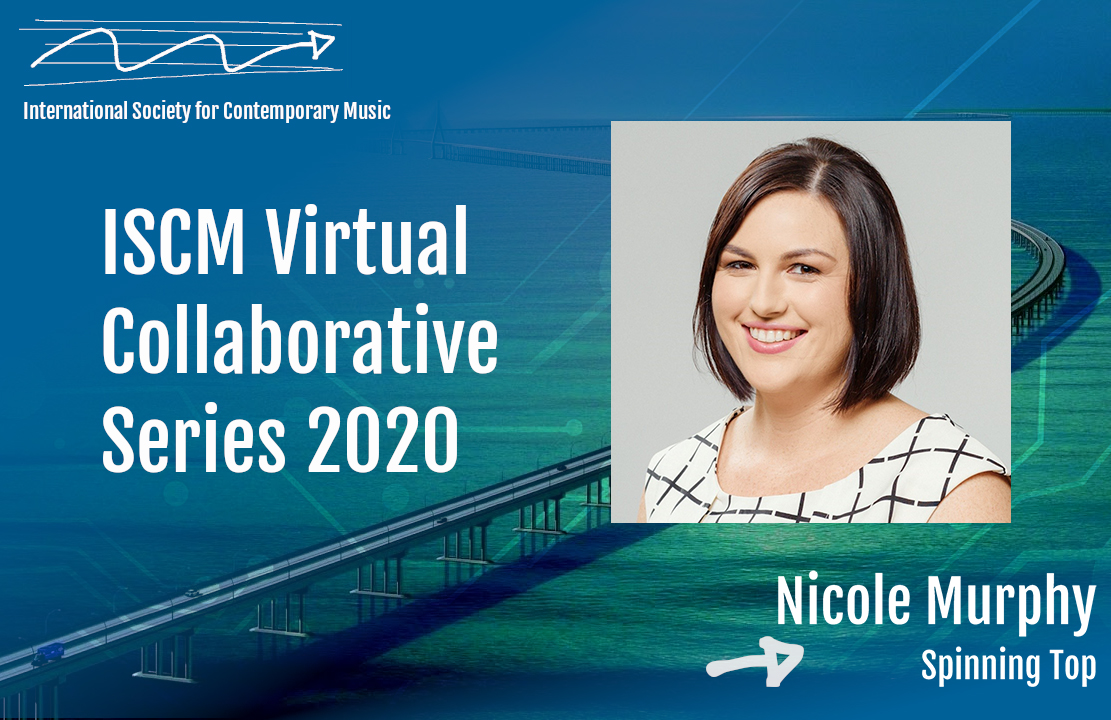 (Submitted by ISCM – AUSTRALIAN SECTION)
The music of Australian composer Nicole Murphy (b. 1983) has been described as 'exquisite and sensitive' (Sydney Morning Herald) and 'full of exhilarating tension' (Arts Knoxville). She has been commissioned by eminent arts organisations including the Australian Ballet, the Royal Academy of Dance (London), the Melbourne Symphony Orchestra, Experiments in Opera/Symphony Space (New York), Orchestra Victoria, Wild Rumpus (San Francisco), Chamber Sounds (Singapore), and the Definiens Project (Los Angeles). Her music has been performed by the Tasmanian Symphony Orchestra, NOWensemble (New York), Alarm Will Sound (US), Ars Nova (Dallas), and Halcyon (Sydney), and has been programmed at numerous festivals, including the Mizzou International Music Festival, the Norfolk/Yale Chamber Music Festival (Connecticut), the Dallas Festival of Modern Music, the Nief Norf Festival (Tennessee), the Risuonanze Festival (Italy), and the Vox Feminae Festival (Tel Aviv).
Nicole is the recipient of various awards, including the inaugural Layton Composer Fellowship at the University of NSW (2018), Ensemble Offspring's Noisy Women Commission (2019), the MAFB International Commissioning Prize (2015), and the Theodore Front International Orchestral Prize (2013). She has been a Composer Fellow at the Hong Kong University of Science and Technology's 'Intimacy of Creativity' program (2018) and a Resident Composer at the Mizzou International Composers Festival (2019). Her piano trio, Spinning Top, was included on ABC Classic 2019 release, Women of Note: A Century of Australian Music.
Nicole is the Composer-in-Residence at the Queensland Academy for Creative Industries and teaches composition at the Queensland Conservatorium, Griffith University. She holds a PhD from the University of Queensland.
Spinning Top (2016) is inspired by Jarrad Kennedy's sculpture 'Spinning Top', located at the junction of Turbot, Wickham and Boundary streets in Brisbane. Kennedy's artwork marks the site of the unrealised Holy Name Cathedral, designed by Archbishop James Duhig in the 1920s. The artwork is a scale-model of the dome of the unfinished cathedral that rests on its tip in the midst of the city high rises, like a spinning top that has come to rest. The artwork is reflected in the music through perpetual rhythmic motion and the cyclic nature of repetition.
The bright mood of the piece reflects the child-like nature of a spinning top toy. It is intended to be a joyous and celebratory piece, in honour of the generous spirit in which Andrea and Malcolm Hall-Brown commissioned the work for Musica Viva. Spinning Top was composed in 2016 for the Benaud Trio.