2004 – ISCM-CASH Young Composer Award – Leilei Tian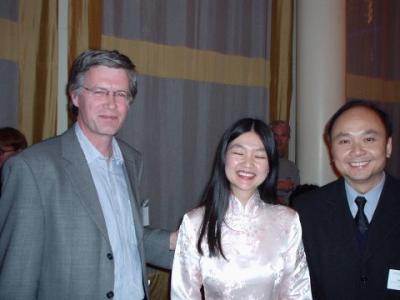 At the end of the ISCM World New Music Days, which took place in several cities in Switzerland from 3 to 12 November 2004, the ISCM- CASH Young Composer Award 2004 was awarded to Leilei Tian (China) for her orchestra work Sâdhana.
The ISCM – CASH Young Composer Award consists of a money prize of 10.000 US$ and a commission to write a new work which is to be premiered during the International Gaudeamus Music Week in Amsterdam. The award is sponsored by the Composers and Authors Society of Hong Kong.
The award is annually given to one of the composers under the age of 35 who are programmed during the ISCM World Music Days festival.
Leilei Tian was born in China in 1971. From 1988 to 1995 she studied at the Central Conservatory of Music in Beijing, and from 1997 to 2001 at the Gothenburg Conservatory in Sweden. In 2002 and 2003 she studied at IRCAM in Paris. She has won several competitions such as those of Besançon and Udine. She is now living in France.
Leilei Tian's composition Sâdhana was written in 2000. It was performed on 12 November 2004 by the Tonhalle Orchestra Zurich with conductor Pierre-André Valade.
Recording of Sâdhana on the composer's website
Composer's info in Catalogue: Tian, Leilei