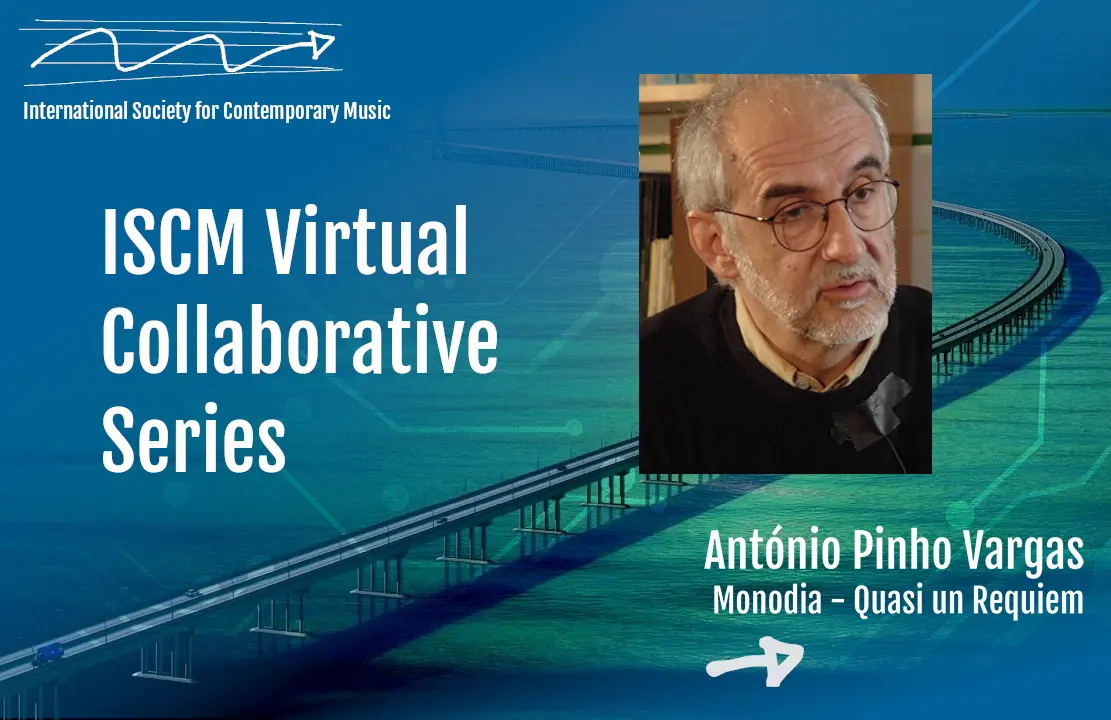 (submitted by ISCM – PORTUGUESE SECTION)

António Pinho Vargas was born in Vila Nova de Gaia in 1951. He graduated in history from the Faculty of Letters of the University of Porto. He received a piano degree from the Porto Conservatory (1987) and a masters in Composition from the Rotterdam Conservatory (1990). He has served as professor of composition at the Lisbon School of Music since 1991 and a researcher at the Centre for Social Studies of the University of Coimbra since 2006, where he finished his PhD in Sociology of Culture (2010) with the dissertation On Music and Power. HIs accolades include the Commander of the Infante D. Henrique Order awarded by the President of the Portuguese Republic (1995), the Municipal Medal of Cultural Merit of Vila Nova de Gaia (1998), the Medal of Honour by SPA (2015), the José Afonso Prize for the album Solo II (2012), the 11th University of Coimbra Award (2012) and the SPA Autores Prize for his work Magnificat for Choir and Orchestra (2014). António Pinho Vargas has recorded 10 jazz albums as composer, pianist, and band leader including Solo (2008), Solo II (2009), and Improvisações (2011). The Naxos label released Requiem & Judas (2014) and re-released Os Dias Levantados and Verses and Nocturnes (2015). Warner Music has also re-released Monodiain in 2015 and the CD Magnificat – De Profundis in 2017. He has composed four operas, three oratorios, 12 orchestral pieces, 8 ensemble pieces, 20 chamber works, 9 pieces for soloists, and five film scores. His most recent works include Requiem (2012), Magnificat (2013), De Profundis (2014), Violin Concerto (2015) and Viola Concerto (2016). He is also author of the books Sobre Música: ensaios, textos e entrevistas (Afrontamento, 2002), Cinco Conferências sobre a História da Música do Século XX (Culturgest, 2008), and Música e Poder: para uma sociologia da ausência da música portuguesa no contexto europeu (Almedina, 2011).
About his 1993 string quartet composition Monodia – Quasi un Requiem, Pinho Vargas has written: This piece was conceived to be performed with the use of a small amplification and reverberation system, unless it is presented in a hall with a lot of resonance. The original material is very simple: two melodies, one 2-voice line, and a chromatic mass. The rhythmical attitude should always be loose and flexible. The piece's central idea is the resonance. The sound of every note and the timbral imagination of the musicians – these are the most important aspects. The first title was Quasi un Requiem. This piece is about the extinction of sound and life. It's about the absurdity of death, racism, and intolerance. The central section is a kind of "non-sense" passacaglia. Monodia – Quasi un Requiem was commissioned by the Contemporary Art Days in Porto 1993.