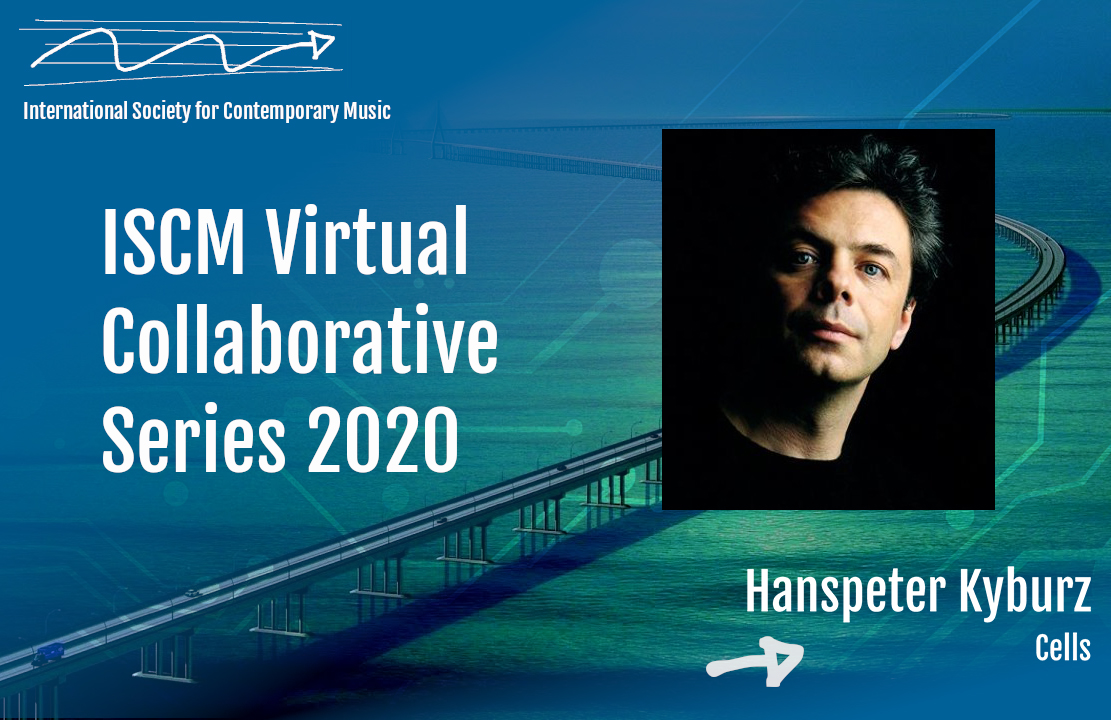 (Submitted by ISCM – SWISS SECTION)
Hanspeter Kyburz was born in 1960 in Lagos, Nigeria to Swiss parents. In 1980 he began his composition studies, initially in Graz with Andrzej Dobrowolsky and Gösta Neuwirth, from 1982 to 1990 with Gösta Neuwirth and Frank Michael Beyer at the University of the Arts in Berlin and then with Hans Zender in Frankfurt. In 1990 he received the Boris Blacher Prize, received a scholarship from the Cité Internationale des Arts in Paris in 1990/91 and began working at the Insel Music Concerts in Berlin. Hanspeter Kyburz completed his studies in musicology as well as philosophy and art history in 1991 with a master's degree. In 1994 he received the Schneider Schott Prize and in 1996 the advancement award of the Berlin Academy of the Arts. Hanspeter Kyburz gave lectures at electronic studios in Germany, Austria and Switzerland; In 1996 he was a guest lecturer at the Basel Composers' Week. He is known as a composer through performances at the Berlin Biennale, the Wiener Festwochen, the Witten Days for New Chamber Music and in Donaueschingen. His works have been interpreted by internationally renowned ensembles such as Klangforum Wien, Ensemble Contrechamps Geneva, Ensemble Intercontemporain Paris, Musikfabrik Nordrhein Westfalen, Ensemble Modern, Ensemble für Neue Musik Zürich, Ensemble UnitedBerlin, Camerata Quartet Warsaw and ensemble recherche Freiburg. CD recordings document his work. Hanspeter Kyburz wrote commissioned works for the Ensemble Intercontemporain Paris. Further orders have been placed by Südwestfunk Baden-Baden, the Basel Conservatory and the Styrian Autumn, the Schleswig-Holstein Festival, the broadcaster Free Berlin and the Süddeutscher Rundfunk. Since 1997 Hanspeter Kyburz has been Professor of Composition at the "Hanns Eisler" University of Music in Berlin. In 1998 Kyburz gave courses at the summer courses for new music in Darmstadt and from 2000 to 2002 at the Basel School of Music, where he also directed the studio for electronic music.
Cells (1993/94) sets the scene for an energetic game with many attempts at unification and homogenization wrenched out of the chaos. Structured passages are more of an opening or a release than a consolidation. The music radiates an eminently sensual, even theatrical energy, inspired by a powerful sonic imagination. The work uses space in the literal sense: the five movements are performed in different places, specified in the score. This differentiation plays a role in the very precise arrangement of unstable forces. Cells also experiences moments of obviousness, echoes of traditional concertante music, when certain solo instruments or small groups of unusual timbres draw attention to them. Thanks to these kinds of magnifications, during which the strength of the collective is put in parentheses, the work offers an alternation of distance and coming together.
— Jörn Peter Hiekel