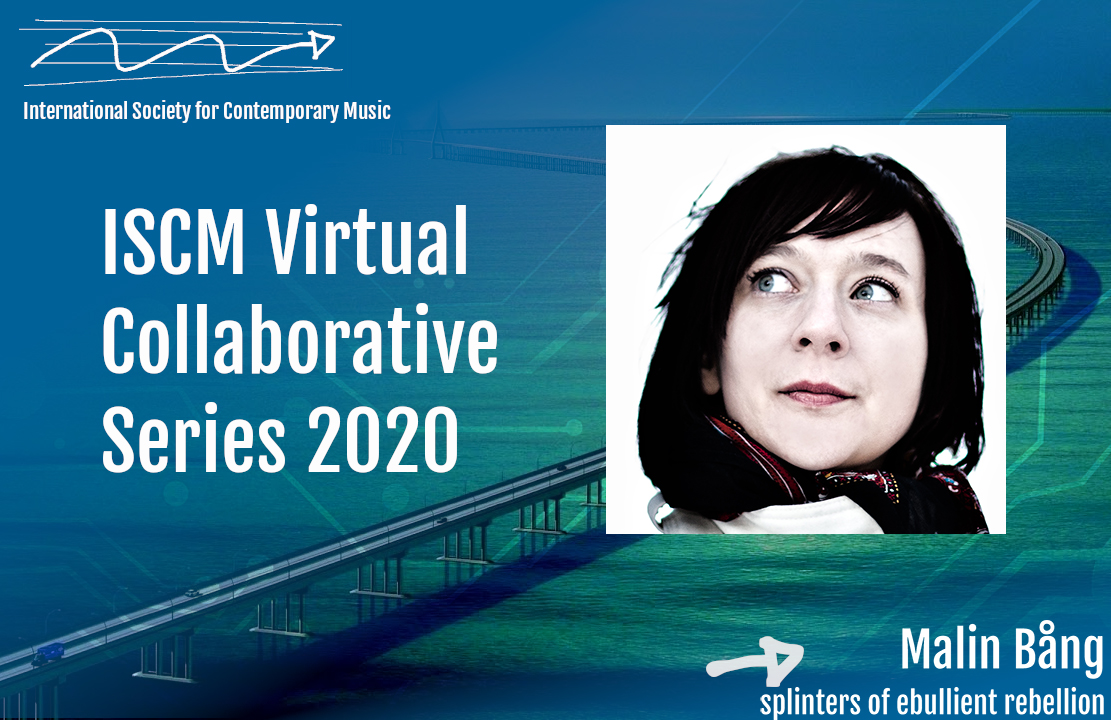 (Submitted by ISCM – SWEDISH SECTION)
Malin Bång's music is an exploration of movement and energy. Bång (b. 1974) defines her musical material according to their amount of friction to create a spectrum of unpredictable and contrasting actions, ranging from the intimate and barely audible to the harsh and obstinate. In her work she often incorporates acoustic objects to explore a rich sound world and to suggest that a musical content can be shaped by anything valuable to the artistic purpose. 
Malin Bång is the composer in residence and one of the founding members of the Curious Chamber Players. In collaboration with the CCP members she has established an experimental composition method combining close amplification of instruments with performance of large acoustic objects. Her works are performed worldwide and some recent projects include the music drama kudzu /the sixth phase/, at Deutschlandfunk in Köln, at Huddersfield Festival and at Klang Festival in Copenhagen; the large orchestral work splinters of ebullient rebellion for SWR Sinfonieorchester at Donaueschinger Musiktage, and the portrait concert how long is now at Ultraschall Festival. Her current projects include a new work of music drama for Münchener Biennale, and an inside piano concerto for WDR Orchester with pianist Rei Nakamura. 
About splinters of ebullient rebellion (2017/18), the composer writes:

The orchestra is for me a dynamic platform for exploring the relation between the individual and the collective, and for examining the vulnerable communication among an institution and its members. The orchestral structure consists of two harsh, mechanic, contrasting blocks that are gradually transformed by different influencing elements that trigger the blocks to interact and entwine.
One of these elements consists of fragments of recent songs that have become symbols for democracy and human rights, a unifying force in the fight against discrimination around the world. The second influencer is the voices of the orchestral members, consisting of individual initiatives that appear from a distance as collective clouds of noise. The third influencer is the typewriter; for me the ultimate symbolic representation of dedicated writing of carefully reflected texts, used by courageous individuals who are quietly opposing current situations in society.
Something that keeps my spirit ebullient is the fact that today, anyone can make their own choice of "typewriter," and by the power of the word start a wave of supportive actions for maintaining democracy and compassion.