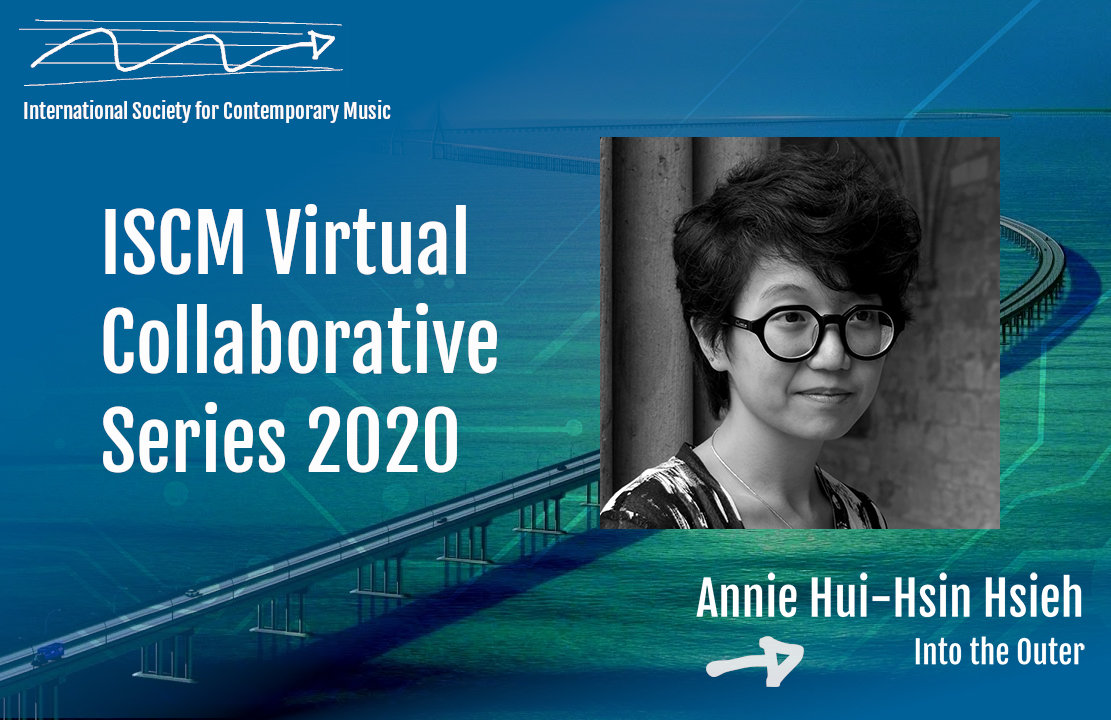 (Submitted by ISCM – AUSTRALIAN SECTION)
Annie Hui-Hsin Hsieh (b. 1984) is a Taiwanese-Australian composer working in acoustic and electroacoustic mediums. Her work focuses on creating immersive physical experiences and she often prefers to articulate sonic expressions in terms of choreography, phenomenology, and musical-social interactivity. Hsieh's music has been presented internationally at events such as Beijing Modern Music Festival, Metropolis New Music Festival, OzAsia Festival, WasteLAnd Music Series (LA), The National Gallery of Victoria 'Melbourne Now' exhibition', Tuesdays at Monk Space (LA), Center for New Music (SF), UC Davis The Art of Migration Festival, Mise-en Festival, Adelaide Festival, Tectonics Festival, ISCM World Music Days, International Rostrum of Composers, SEAMUS, Seoul International Computer Music Festival, Opera Memphis Midtown Opera Festival, Eavesdropping Symposium in London, Pittsburgh Festival of New Music, Huddersfield Festival of Contemporary Music, and Bendigo International Festival of Exploratory Music.
Some recent commissions include Symphony Services Australia, The Arts Centre Melbourne, Melbourne Symphony Orchestra, Adelaide Symphony Orchestra, Sydney Symphony Orchestra, Wien Modern, Foundation Royaumont, Red Fish Blue Fish, Quince Ensemble and ELISION Ensemble, among others. Her works have also been performed by ensembles including the BBC Scottish Symphony Orchestra, UC Davis Symphony Orchestra, Ulysses Ensemble, Mivos Quartet (USA), Jack Quartet (USA), Rubriks Collective (Australia), Thin Edge New Music Collective (Canada), Ensemble Paramirabo (Canada), Ensemble Dal Niente (USA), Arko Symphonic Ensemble (Australia), Syzygy Ensemble (Australia), Ensemble Offspring (Australia), Alia Musica (USA), and Hong Kong New Music Ensemble (Hong Kong).
About Into the Outer, a 2014 composition for 13 solo strings, Hsieh writes:
"The original fascination that inspired Into the Outer was an exploration of notions of push and pull. Associating specific musical material with members and sections of the ensemble, I sought to create a landscape in which to explore the interplay between give and take, will and force, expansion versus contraction, and above all, propagation versus consumption.
"A player possesses his/her material, and therefore is endowed with some sense of agency in the piece. Their material can propagate into the surrounding ensemble. This can be viewed both positively, as an exertion of influence, and negatively, as consumption and a loss of identity.
"These ideas are manifest in the division of the ensemble into an inner string quartet and an outer nonet. Additionally, for every member of the string quartet, there is a quadrant, including the spatially corresponding members of the outer ensemble.
"The string quartet is the heart of the system, a seed whose material propagates throughout the orchestra. It is tender and fragile, yet self-contained, content, and self-governing. As the piece progresses, this core gets extracted, borrowed, one-by-one, by their corresponding outer subsets. Its ideas and behaviour gradually submits, infiltrates into the mass, giving the noise-based larger force the 'nutrition' to grow and develop through this process of infusion."
Into the Outer was performed during the 2016 ISCM World New Music Days in Tongyeong, South Korea.