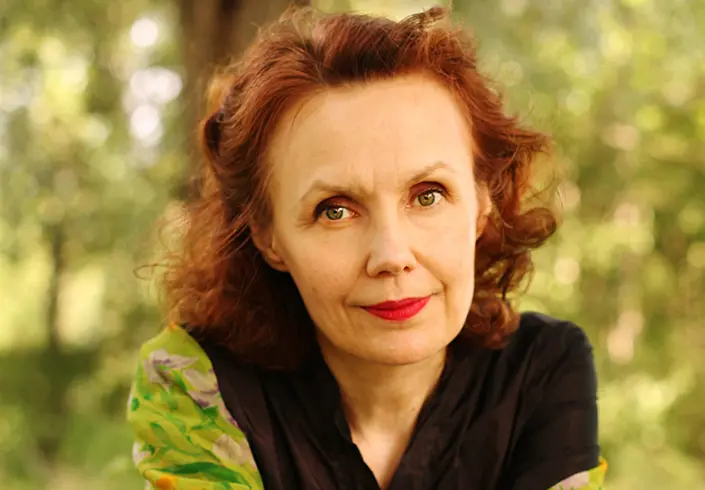 It is with great sadness that we acknowledge the passing of the extraordinary composer Kaija Saariaho (1952-2023). She will forever be remembered for extraordinary music (well over 100 compositions) which seamlessly wove acoustic and electronic elements as well as for her transformative operas, especially L'Amour de Loin, which was the first full-length opera composed by a woman ever to be staged at The Metropolitan Opera (in 2016!) after the work had already earned the Grawemeyer Award for Music Composition (in 2003) and its premiere recording had won the Grammy Award for Best Opera Recording (in 2011). Her other prestigious honors include the Nemmers Prize, the BBVA Foundation Frontiers of Knowledge Award in Contemporary Music, and the Polar Music Prize.
She was also extremely important to the ISCM. She was unanimously elected an ISCM Honorary Member during our 2012 General Assembly in Belgium. For over a quarter century prior to that, she had been one of the most frequently performed composers on our ISCM's annual World (New) Music Days festivals. The first of Saariaho's works to be presented during one of these festivals was her 1984 composition Verblendungen for orchestra and fixed media electronics, which was her earliest international sensation, in a performance by the Netherlands Radio Symphony Orchestra conducted by Lucas Vis at De Doelen, Rotterdam during the 1985 ISCM W(N)MD which took place in five different Dutch cities. Following that performance, five works of hers were programmed in the next five years. Her Lichtbogen for nine instruments and electronics (1986) was performed in 1987 (Cologne). In 1988, during the very first ISCM W(N)MD held in East Asia, her fixed media Jardin Secret I (1985) was presented in the Studio Foyer of The Hong Kong Academy for Performing Arts. The following year, the Arditti Quartet played her 1987 Nymphéa for string quartet and electronics at the IJsbreker during the 1989 festival in Amsterdam. Plus at the 1990 festival in Oslo, there were performances of two of her compositions: Io for chamber orchestra and electronics (1987); and Petals, a 1988 work for violoncello and electronics derived from Nymphéa.
Saariaho's music continued to be performed at ISCM festivals in the 21st century starting with Mari Kimura as the violin soloist for the Hong Kong Sinfonietta's performance (led by Tsung Yeh) of Saariaho's 1994 Graal théatre at the 2002 ISCM W(N)MD in Hong Kong. Saariaho's 2003 Je sens un deuxième coeur (Another Heart Beats) for viola, violoncello and piano was performed by Claus Myrup, Toke Møldrup, and Anne Marie Fjord Abildskov in Göteborg, during the 2009 ISCM W(N)MD which took place in three different Swedish cities. Finally, during the 2013 ISCM WNMD which was spread across three different cities in two countries–Košice, Bratislava, and Vienna–there was an entire concert devoted to the music of Saariaho featuring the Quasars Ensemble under the direction of Ivan Buffa that was organized by the Melos Ethos Festival and presented in the concert hall of the mind-boggling Slovak Radio Building which featured 4 of her compositions: another performance of Lichtbogen as well as the 2004 Tempest Songbook (with soprano Eva Šušková and baritone Lionel Peintre), Sombre (2012, again featuring Šušková), and Terrestre from 2012 (featuring flutist Camilla Hoitenga). In addition, the night before in the concert hall of the Slovak Philharmonic Orchestra, also in Bratislava, Hoitenga joined the Slovak Phil under the direction of Zsolt Nagy for a performance of Saariaho's 2001 flute concerto Aile du songe.
She was truly loved by members of the music community from all around the world.