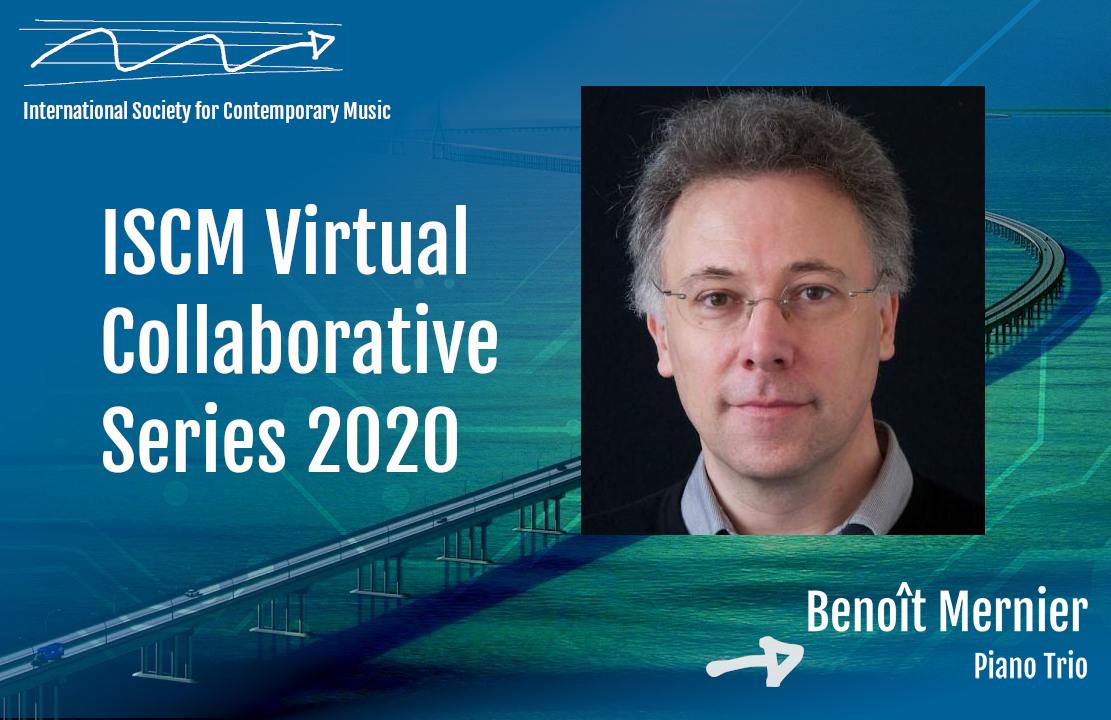 (Submitted by ISCM – Wallonian Section)
Benoît Mernier was born in 1964 in Belgium. He studied organ and improvisation with Firmin Decerf and harpsichord with Charles Koenig, continuing his studies at Conservatoire Royal de Musique in Liège where he graduated in many subjects, including the Higher Diploma in organ in the class of Jean Ferrard, for whom he was the assistant for several years. He also studied organ with Bernard Foccroulle and with Jean Boyer at the National Regional Conservatoire of Lille, where he obtained the Diplôme de Perfectionnement.
Along with the organ, Benoît Mernier has devoted himself to composition. In this field, he studied with Philippe Boesmanshe and was also able to profit from the counsels of Claude Ledoux, Henri Pousseur, Luca Francesconi, Emmanuel Nunes, Bernard Foccroulle, Célestin Deliège. His works have been performed in leading festivals as Ars Musica, Présences, Wien Modern, Gaudeamus, World Music Days (ISCM), Prague Premieres, and have been played by groups and performers such as the Arditti Quartet, the Ensemble Modern, the Nouvel Ensemble Moderne, the Radio-Symphonieorchester Wien, the Monnaie Symphony Orchestra, the Philharmonic Orchestra of Radio France, the Liège Philharmonic Orchestra, the National Orchestra of Belgium, the Philharmonic Orchestra of Montpellier, the Namur Chamber Choir, the Danel Quartet, the ensembles Ictus and Musiques Nouvelles, the Danel Quartet, the Trio Medicis, the Trio Fibonacci, and Oxalys. He was composer-in-residence with the Centre for Fine Arts of Brussels in 2002-2003 and with the Carinthischer Sommer 2004 (Austria). Benoît Mernier wrote the compulsory work for singing session of the Queen Elisabeth International Music Competion in 2004. In 2008, he was artist-in-residence with the Festival de Wallonie where his first piano concerto was performed by the Liège Philharmonic Orchestra conducted by Pascal Rophé and Cédric Tiberghien as soloist. His first opera « Frühlings Erwachen » was commissioned by the Théâtre Royal de la Monnaie (Brussels) (World premiere : Brussels : March 2007- French premiere : Opéra du Rhin/Strasbourg : September 2008). His second opera « La dispute » after Marivaux has been performed in March 2013 at La Monnaie (stage production by Karl-Ernst and Ursel Herrmann with collaboration of Joël Lauwers – Publisher: Durand-Universal Music Publishing Classical). He is currently writing a piece for the Choraline, the Monnaie's children's choir with the Monnaie's Orchestra, as well as a work for the newly restored organ of the Palais des Beaux-Arts in Brussels. 
The Piano Trio, written in 2003, advances Mernier's Schumannian quest, this time in the form of a homage to the latter's admirable Trio in D minor op. 63 (which he likes to have programmed in the same concert, even though it countains not the slightest allusion). The polyphonic and especially the polyrhythmic complexity is pushed even further than in An die Nacht, for three solo chamber musicians can be treated with greater boldness than the desks of an orchestra. The work initially follows a descending trajectory of a progressive loss of energy: no sooner is a fast tempo established than it slows down more quickly than the preceding, and here, as with Schumann himself, we perceive a
pallid, wan night, at times shot through with flashes of illusory brilliance, like aurorae boreales. The surges of acceleration and deceleration that are continually being cut short and most often superimposed where very loosely inspired by certain procedures of "rhythmic modulation" favoured by Elliott Carter (the composer, be it remembered, of the admirable Night Fantasies for piano). After the low point of the slow central section, the third and final part seeks to give itself mere ongoing momentum, but even so the ultimate affirmation is far from assured. (Harry Halbreich)