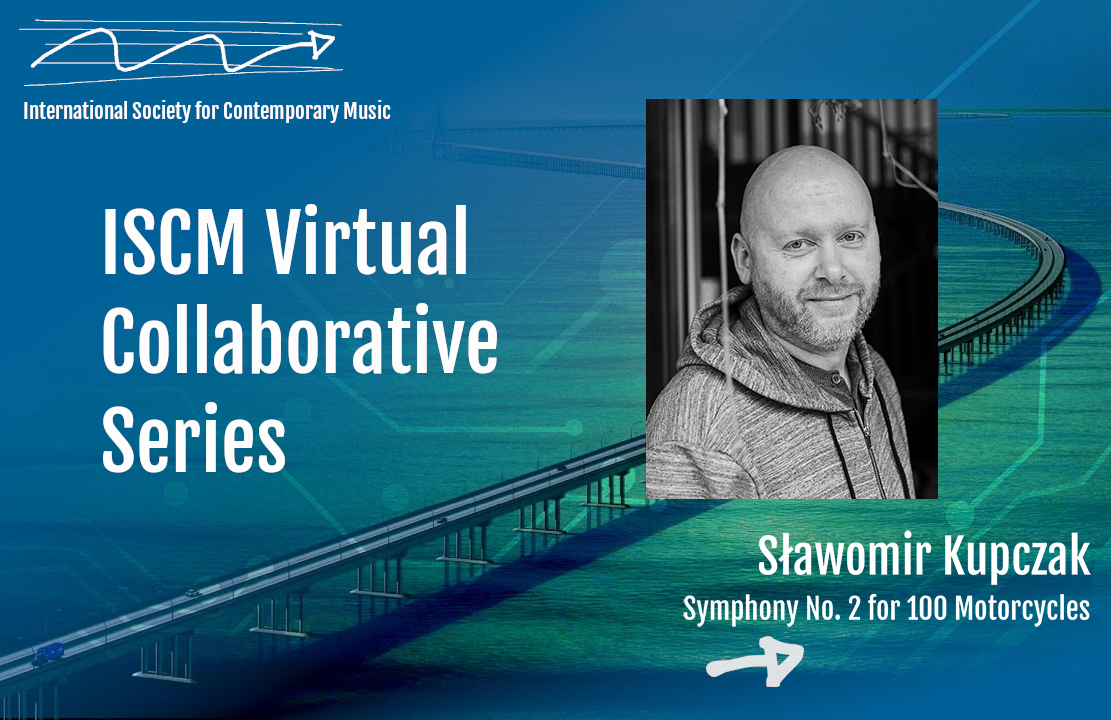 (Submitted by ISCM – POLISH SECTION)
Sławomir Kupczak (born 1979 in Wrocław) graduated from the class of Jan Antoni Wichrowski at the city's Karol Lipiński Music Academy, followed by postgraduate studies in special and computer composition with Stanisław Krupowicz and Cezary Duchnowski as well as in theatre and film music. He participated in international courses for young composers in Radziejowice (2000), Gdańsk (2001), and Canterbury (2006). In 2006 his work Anaphora VI won the 4th Prize at the International Rostrum of Composers in Paris in the young composers category. The same year, Lament – Anaphora VII won the 2nd Prize at the Tadeusz Baird Young Composers' Competition, organised by the Polish Composers' Union. Anaphora V for cello and computer represented the Polish Radio at the International Rostrum of Electroacoustic Music in Rome (2004). Two other works, Res facta and Four Dances with Prelude, represented the Polish Radio at the 3rd Palma Ars Acustica in Berlin (2015). Voyager, a commission of the Grand Theatre – National Opera in Warsaw, was premiered in 2015, directed by Michał Borczuch. Sławomir Kupczak's Halny for electronics and improvising flautist, performed by Ewa Liebchen, was recommended by the 66th International Rostrum of Composers (2019), held in San Carlos de Bariloche in Angertina.
He composes solo, chamber, symphony, electroacoustic, film, and stage music to plays directed notably by Jakub Porcari, Krzysztof Rekowski, Krzysztof Globisz, Piotr Jędrzejas, Maria Spiss, and Paweł Passini. He has received commissions from the Grand Theatre – National Opera in Warsaw, Warsaw Autumn, Polish Society for Contemporary Music, ISCM World Music Days in Wrocław, NeoQuartet, Foundation 4.99, festivals including Musica Electronica Nova and Musica Polonica Nova, State High School of Theatre in Cracow, Turning Sounds Association, Musical ought Laboratory Festival, Łódź Philharmonic, Brand New Music Festival, Polish Radio Experimental Studio, Friends of Warsaw Autumn Foundation (with financial support from the Ernst von Siemens Foundation), and the Polish Radio Experimental Studio.
His works have been performed at leading European festivals, including Musica Polonica Nova, Musica Electronica Nova, Sacrum Profanum (monographic concert), Poznań Music Spring, Premieres Festival, Contrasts (Ukraine), The Other Space (Moscow), Ohren auf Europa – Biennale der Neuen Musik (Düsseldorf), Polish Music Festival (Cracow), Audio Art (Cracow and Warsaw), Warsaw Music Meetings, Velvet Curtain (Lviv), Synthèse (Bourges), Polska!Year (Great Britain), Sonorities Festival (Belfast), and Prix Italia. 
Kupczak's Symphony No. 2 for 100 Motorcycles and Rock Band received its world premiere during the 2014 ISCM World Music Days in Wrocław.